Learn how to repurpose common everyday items — like ladders, tin cans and rakes — and turn them into clever household storage solutions. Here are 30 ideas you'll be dying to try.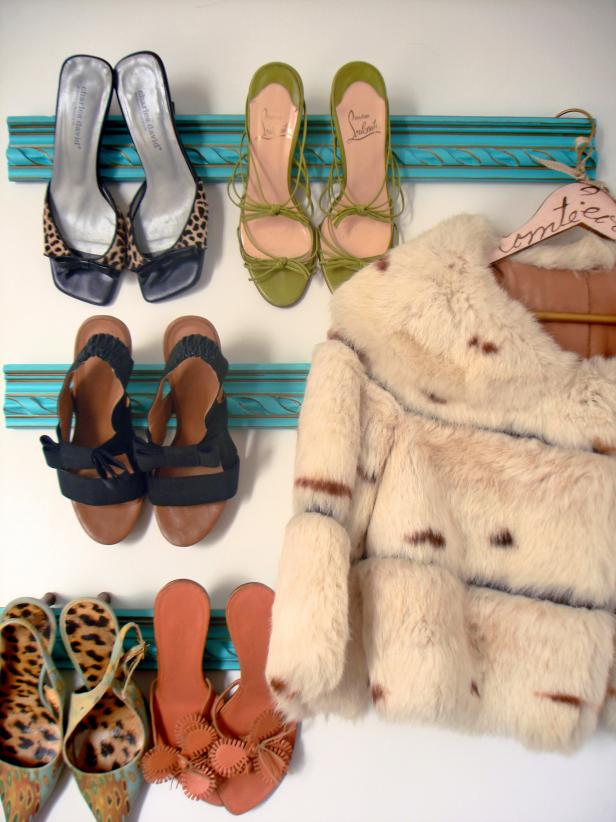 Raise the (Shoe) Bar
Shoe clutter and closet disarray is an all-too-common problem for those of us with shoe addictions. Janet Lee conquered the dilemma of storing her abundance of shoes in a New York City apartment by creating a chic shoe bar that puts her favorite pairs on display and offers a vertical space-saving solution. The best part? No hammering or drilling required. To make, Janet found a lightweight polyurethane decorative molding cut into 24-inch-long strips. She then painted them in a cool blue hue to match her bedroom's palette. To attach to the wall, she added removable picture-hanging strips to the back (six on each piece of molding). Each bar can hold three or four pairs of heels.
"In a small space you, have to find ways to maximize vertical real estate," she says. "Lifting a dozen pairs of shoes off the ground and displaying them on a wall turns clutter into modern art." Photo courtesy of Janet Lee, author of Living in a Nutshell: Posh and Portable Decorating Ideas for Small Spaces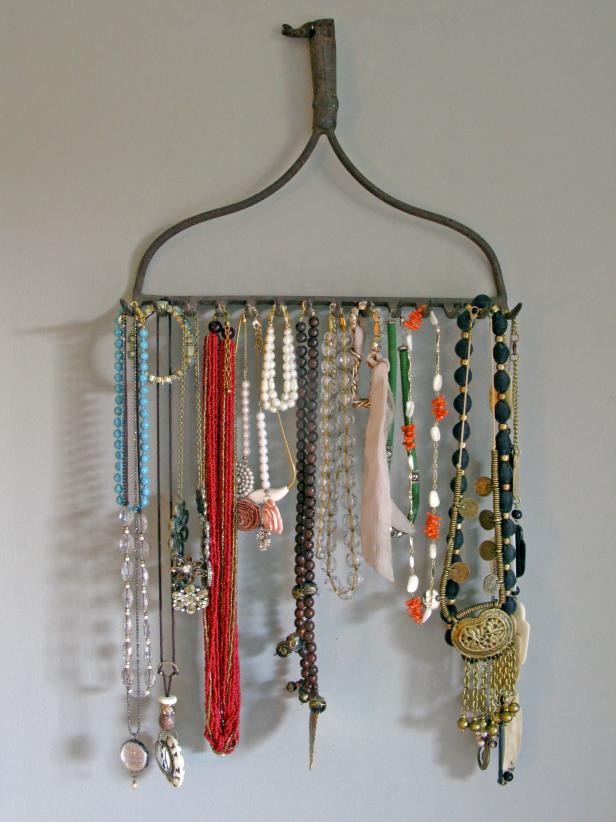 Rustic Jewelry Display
To keep your bracelets and necklaces nice and tidy, look no further than the garage. You would be surprised at how well a vintage rake head keeps necklaces untangled and hanging beautifully on the wall. Kevi Zupancic detached the handle and simply nailed the rake head to the wall to create a unique and rustic jewelry holder — for free!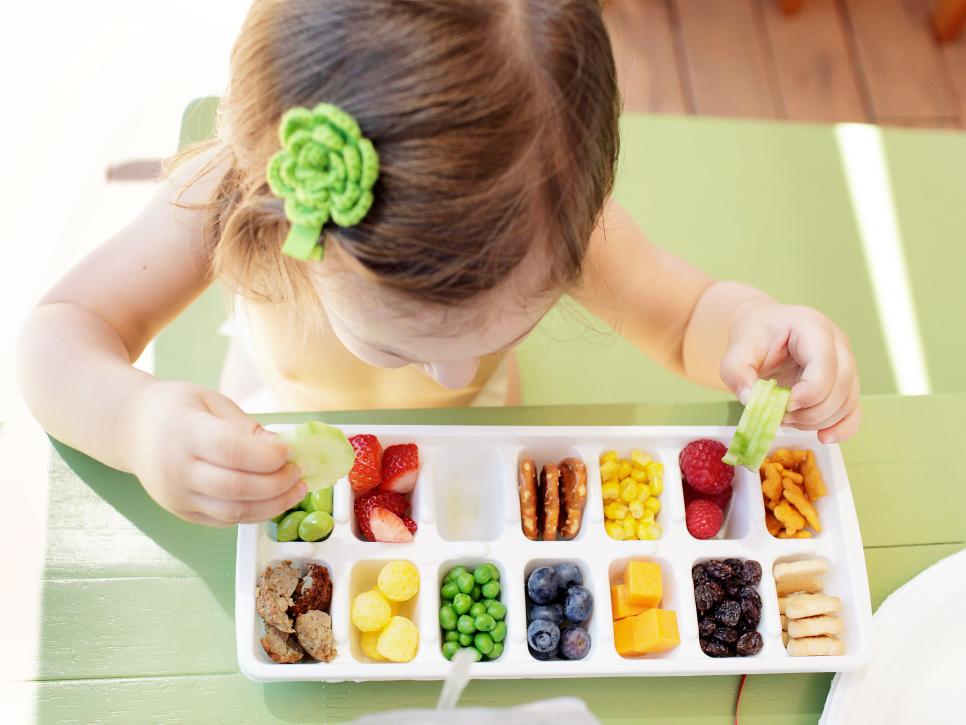 Ice-Cube Tray Munchies
These days, ice-cube trays aren't just for freezing water. They make excellent drawer organizers for housing tiny odds and ends, and, interestingly enough, they are perfect food separators for picky little ones. Jennifer Bishop decided to integrate this colorful and creative idea at toddler birthday parties where all the kids, picky or not, would be happy with the variety of food choices in front of them. Plus, the trays are stackable, making a cute and colorful statement on the food buffet.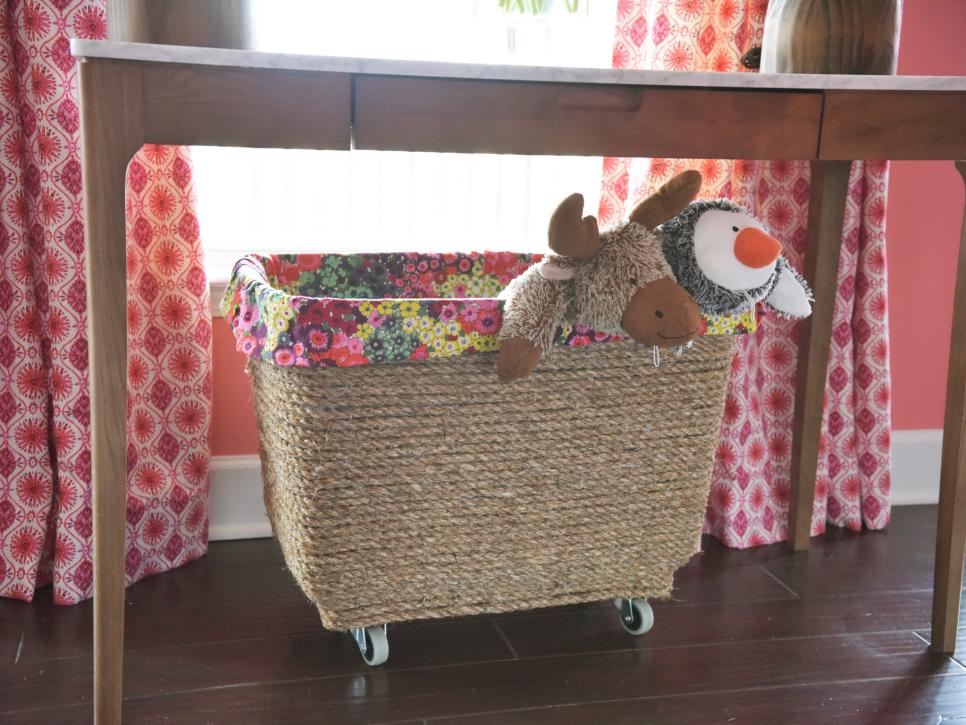 Mobile and Mess-Free Storage
Don't throw out an old plastic bin just when it starts to show some wear and tear. Instead, cover it with durable jute rope and add metal casters to create your own mobile toy box. It's never been easier or more fun for kids to clean up after themselves! 
Get the full instructions>>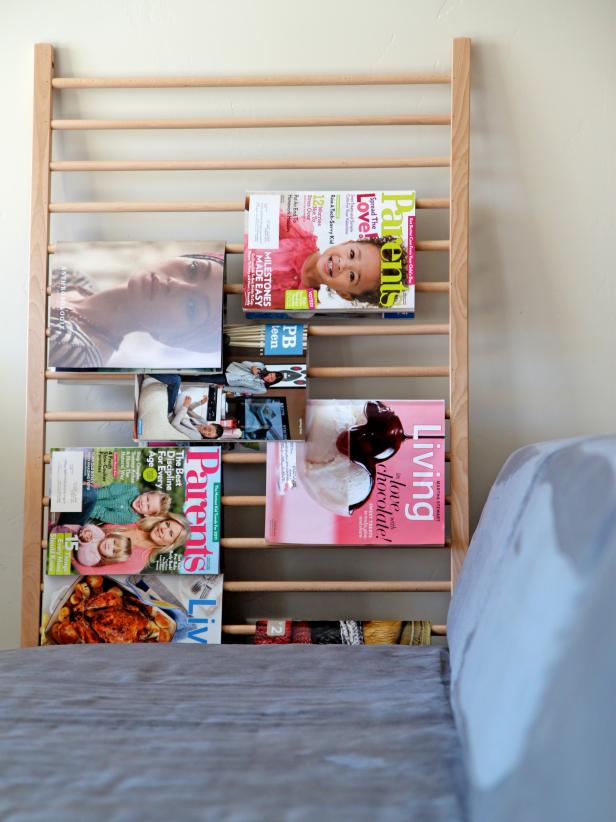 New Home for Magazines
As babies transition to toddler beds, the cribs inevitably make their way to the attic or garage to take up space and collect dust. Nikki McBride thought of a new use for her child's crib railing that would be functional, space-saving and stylish, too: a clean-looking vertical magazine rack. Not only can she use the rail for magazines, but also for quilts, towels and wet laundry. It has become an instant organizing accessory in her household, but if it ever needs to convert back into a crib railing, it can in a snap.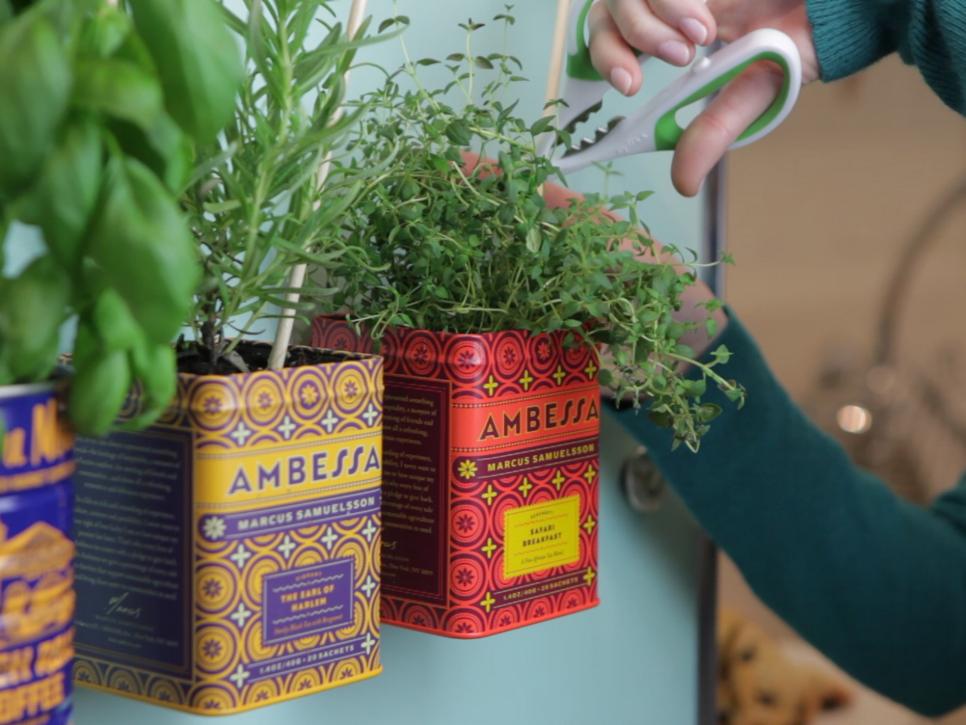 Tea Tin Herb Garden
If you happen to have any antique (new works fine, too!) tea and coffee tins around, consider repurposing them into adorable magnetic planters for fresh herbs. You can attach them to the fridge, save counter space, and always have fresh herbs to cook with! 
Get the full instructions>>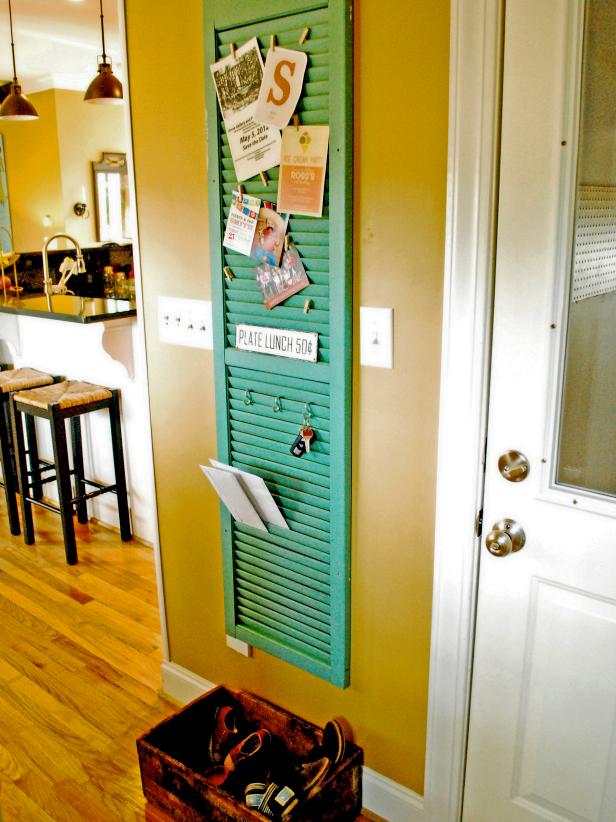 Entryway Shutter Catchall
Holly Marsh set out to conquer the entryway clutter issue by turning a common household item into a clever organizational system. She found this vintage shutter at a local thrift store and hung it up next to the back door where everyone comes and goes. Then, she placed S hooks and clothespins on the wooden slats to hold everyone's keys and outgoing mail, invitations and other important memos. An old wooden box below keeps often-worn shoes contained, too. Now there's no excuse for missing keys, lost invites or misplaced bills.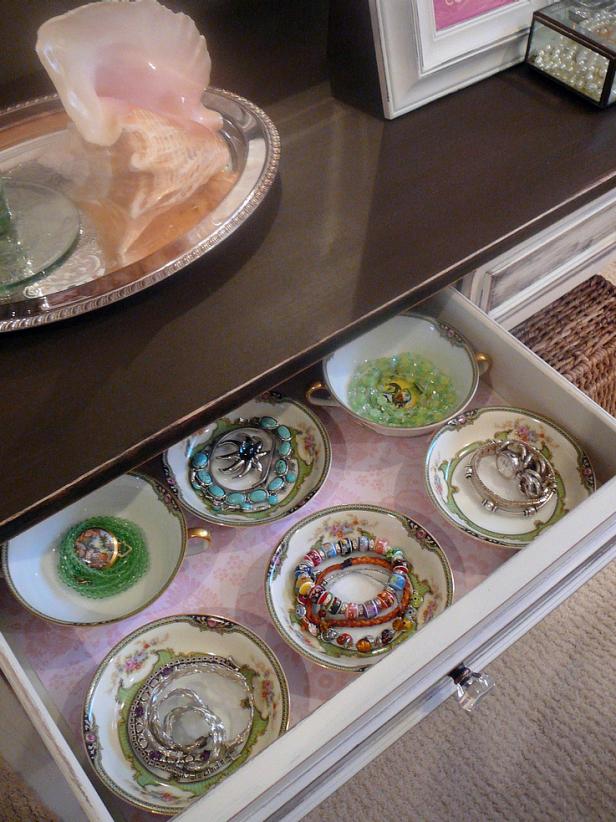 Teacup Organizers
We can never have too many ideas when it comes to organizing and displaying jewelry. If you're not short on storage space, reserve a vanity or dresser drawer just for holding bracelets, necklaces and rings. Designer Lynda Quintero-Davids wanted to add as much style and function to her client's dressing table, so she incorporated antique china teacups and soup bowls into one of the lined drawers. Each dish serves as a perfect way to separate small pieces like rings, earrings and brooches.
Shipping Pallet Wine Rack
Pallets are an upcycling gold mine. Put a new twist on a basic wooden pallet by turning it into a rustic outdoor wine rack that can hold 
at least
 25 bottles of wine and stemware, too. 
Get the full instructions>>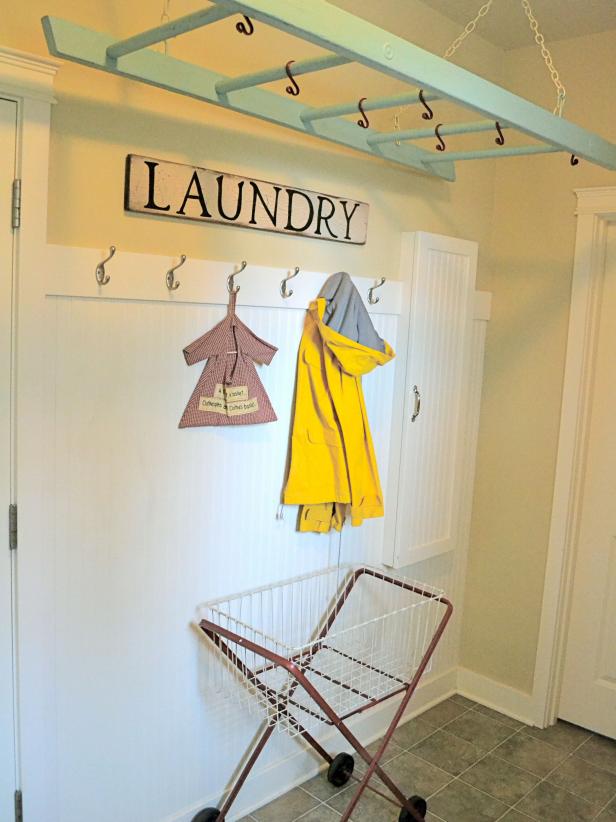 Ladder Drying Rack
When laundry time comes around, do you find yourself hanging damp clothes all over the house? We thought so. Rebecca Kuenzi needed somewhere to hang-dry her clothes without taking over her small laundry room. She immediately found the perfect use for an old wooden ladder she had wanted to put to use. She cut the ladder in half, painted it turquoise and screwed four hooks into the top. She then added chain links and hung it directly from the ceiling. To hang her clothes from the ladder, she added multiple shower curtain hooks to each rail. Now clothing can be hung with ease and the drying rack can stay out of the way when not in use.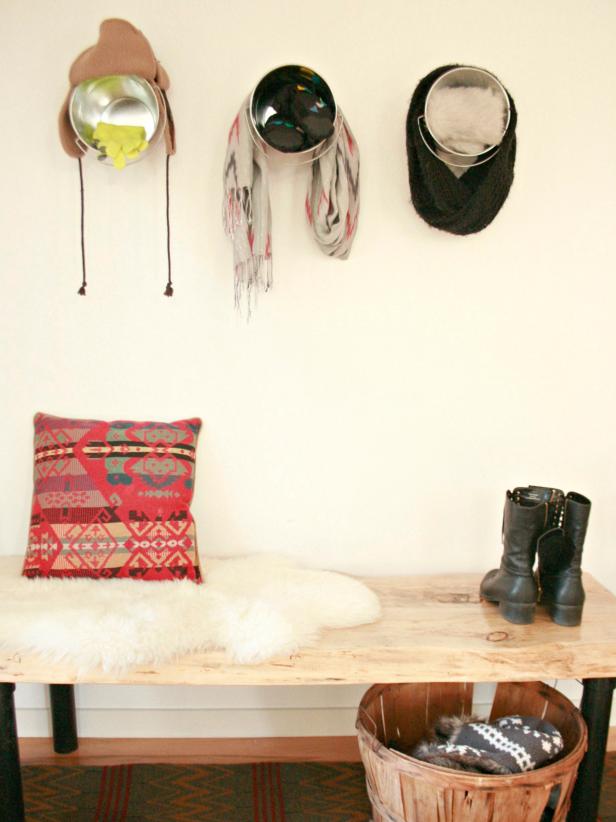 Paint Can Coat Hooks
Attention home decorators: If you've been wondering what to do with your old paint cans, we have a solution that not only adds vertical storage to your walls, but adds a bit of bare industrial charm, too. In her home, Kirsten Grove repurposed paint cans into wall-mounted mudroom cubbies to help corral clutter. They make excellent storage containers for hats, scarves, gloves and other winter gear. Or you can use them to hold mail, keys and any easy-to-lose accessories. Tip: If you don't have empty paint cans, get the same look by using metal buckets.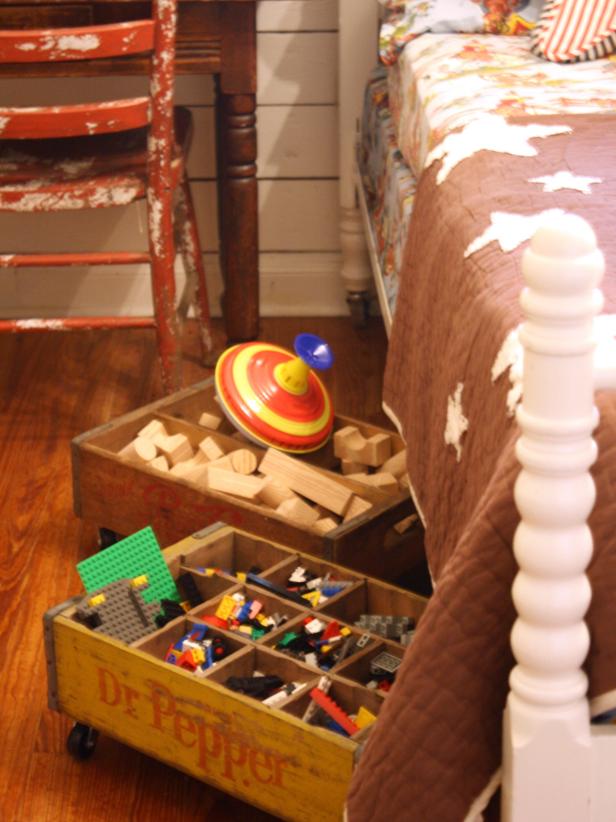 Revamp Soda Crates
Designer Holly Mathis needed a handy storage solution for her son's favorite toys, so she added casters to vintage soda crates and turned them into under-the-bed organizers. The small sectioned compartments are ideal for storing Legos and other small pieces, and the casters make cleaning up a breeze — simply put everything in its spot and roll the crates under the bed.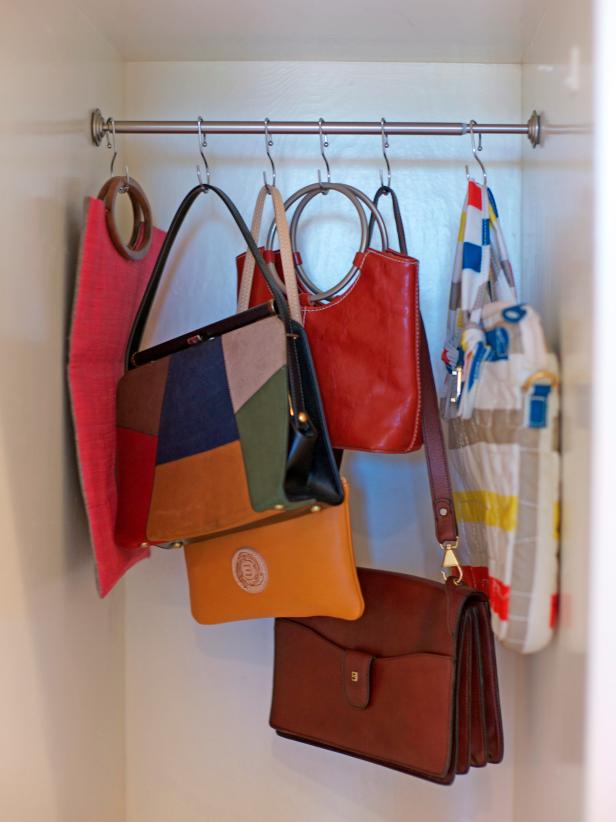 Rings to the Rescue
If you're not sure what to do with those tiny nooks around your house or apartment, then we have a solution to ensure they get used to their full potential. By using a tension rod from an old window treatment and some simple shower curtain rings, you can turn those once "dead" spaces into prime real estate for storing handbags, kitchen utensils, accessories and more. Photo courtesy of Brit Morin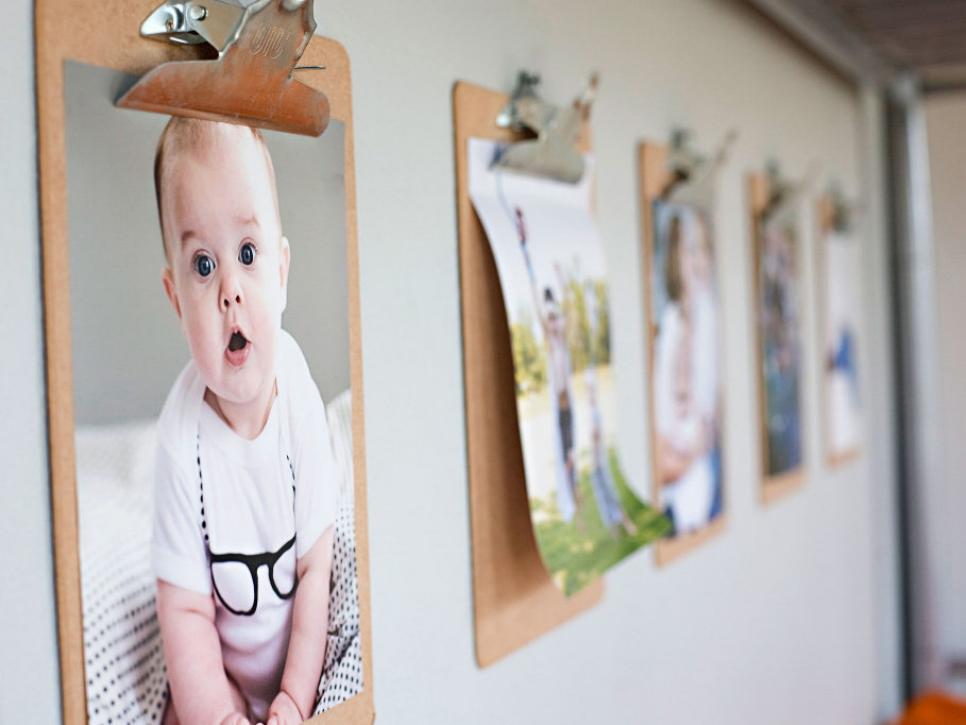 Clever Clipping
A fun and inexpensive way to display 8×10 photos, drawings and other crafts in kids' rooms is to use clipboards. They're easy to hang, the images can be quickly changed out if necessary and they add a playful, unexpected touch to empty wall space. Photo courtesy of Ashley Ann Photography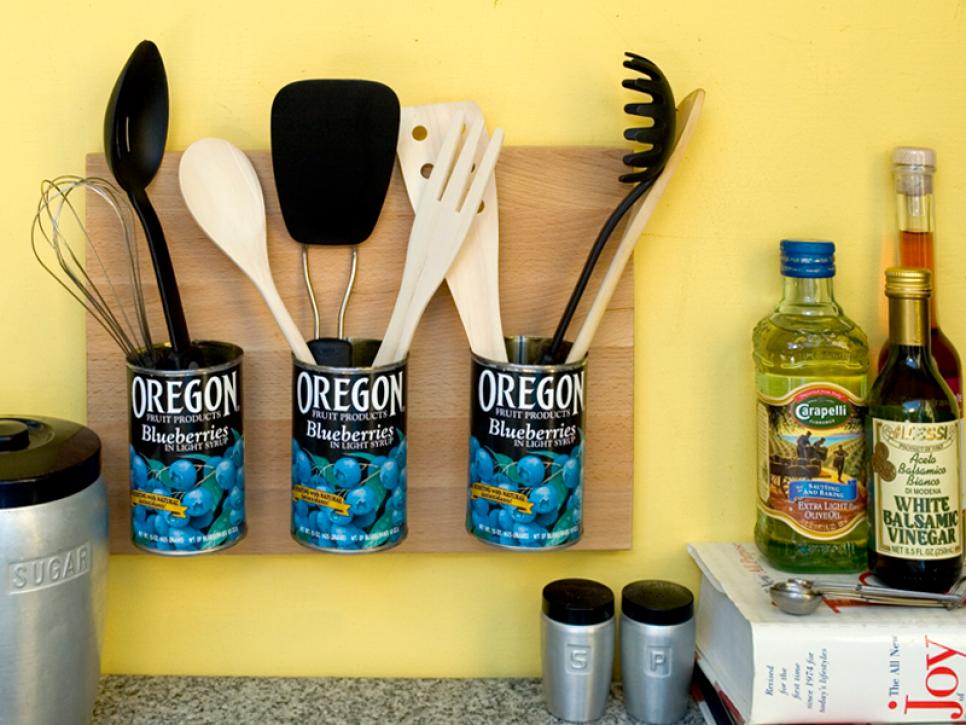 Modern Canning
Attractive fruit and veggie tin cans make pretty containers for housing kitchen utensils. Choose cans that pull in hues from your kitchen or add a surprising dose of color, like these sweet blueberry tins. For a smart space-saving solution, attach them to a wooden cutting board and hang on the wall. It will free up your counter space and keep your spatula and whisk close at hand when cooking. Photo courtesy of Jennifer and Kitty O'Neil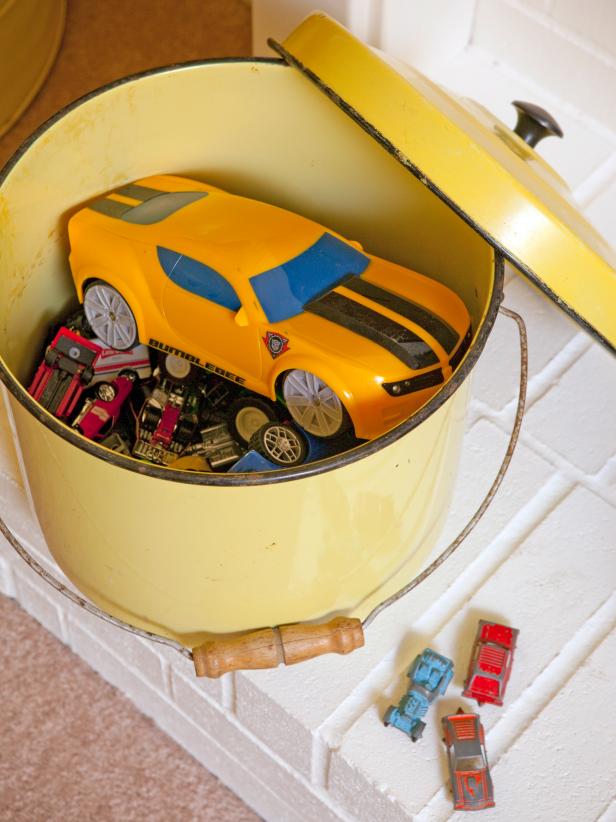 Let 'Em Simmer
Virtually anything can serve as storage with a little creative thought, and designers Amie and Jolie Sikes, known as the Junk Gypsies, proved that by turning an old yellow pot into an attractive toy "box." The lid conceals the slew of toys, while the handle makes it easy to tote and move around. Bonus: It's cute enough to keep in the living room, we think!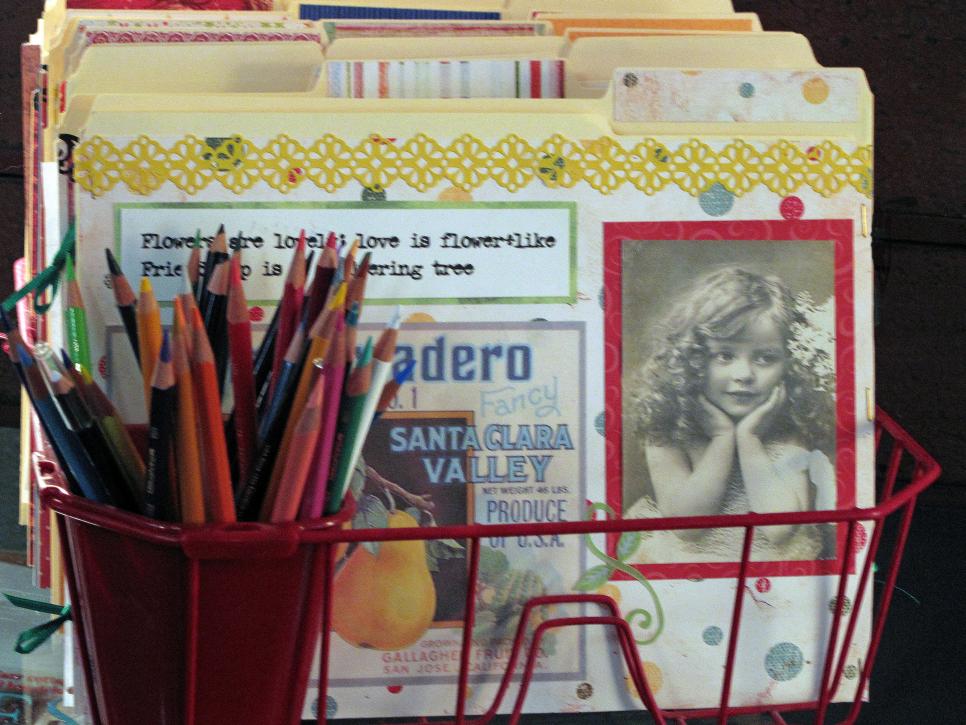 Dish Drainer File System
Kitchen supplies have often made their way into the home office, like cookie tins for cord storage and cans to hold pens and pencils. But Brenda Pruitt really thought outside the box when she used a plastic dish drainer as a home office file organizer. The cutlery holder is perfect for housing pencils and markers, as the file folders stay straight and upright thanks to dish-drying slots. Photo courtesy of Brenda Pruitt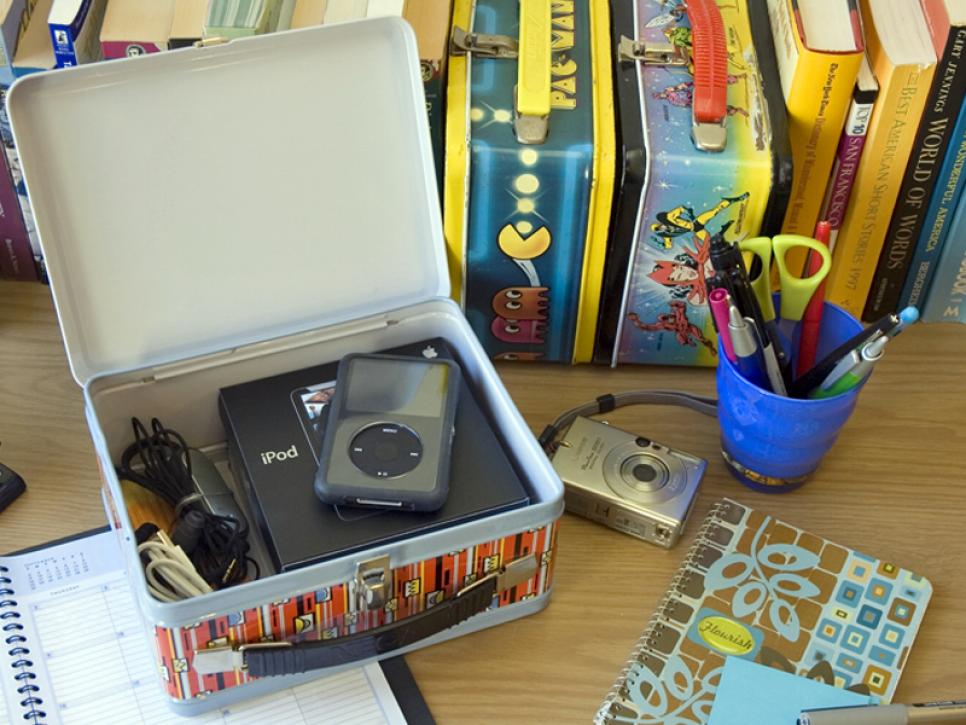 Functional Collectables
If you have vintage lunchboxes lying around, then put them to use by giving them a function beyond collecting dust. These clever containers are portable solutions for storing and organizing all kinds of household items, and their playful exteriors can bring an expected splash of color to any space. Fill them with electronic devices, instruction manuals and other home office supplies, and integrate them onto your bookshelves for a classic vintage look. Photo courtesy of Jennifer and Kitty O'Neil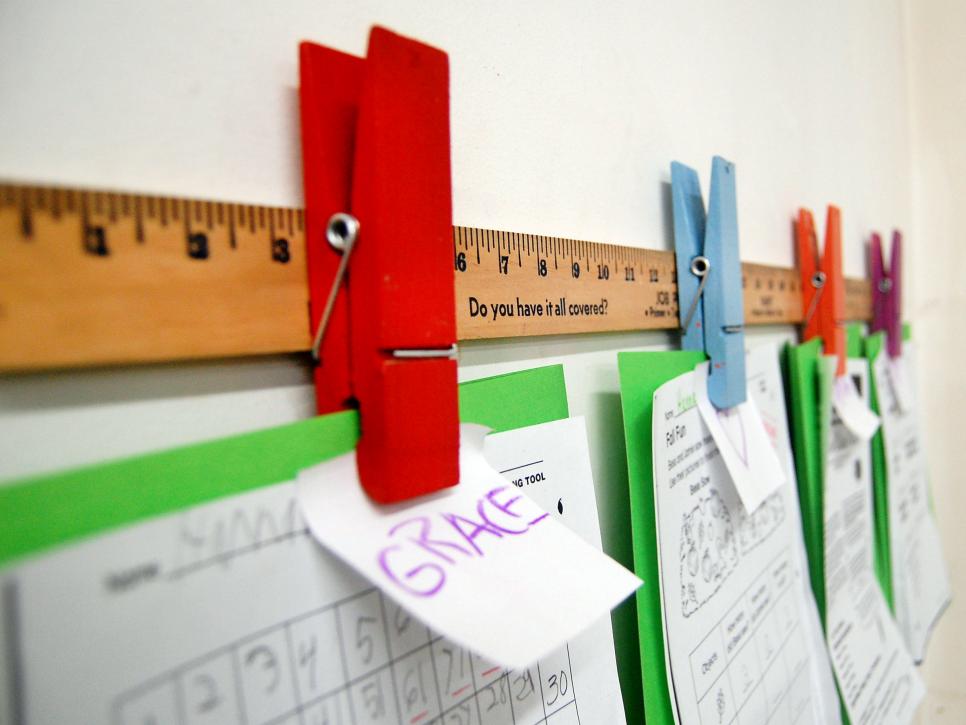 By the Yard
Kids love to display their good grades and artwork, whether it's on the refrigerator or in their bedroom for daily motivation. Give them a place that's truly their own to showcase their proud markings by revamping a yardstick into a kids' clip-art rail. Simply add colorful extra-large clothespins to a yardstick and attach. Each pin will be easy for little hands to clip up their favorite drawings, photos and awards. Photo courtesy of Ana White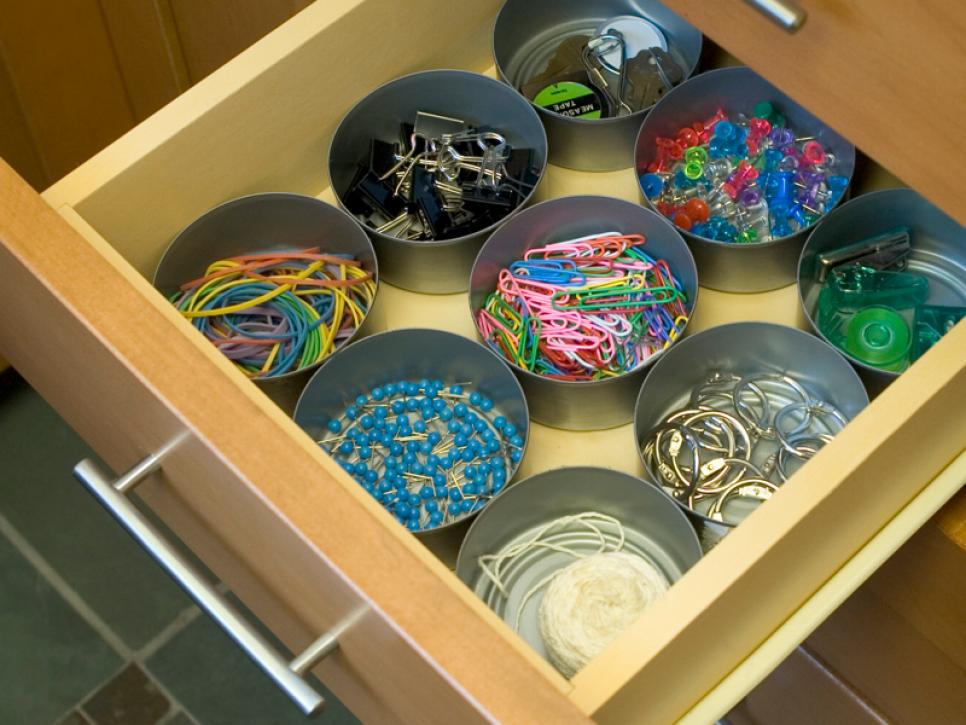 Junk Drawer in Order
Housing small items — like paper clips, rubber bands and thumbtacks — in the kitchen can be a nuisance. That's where recycled tuna cans come in handy. Nestled side by side, these short containers serve as the perfect separators for small accessories and junk drawer knickknacks. With this method, it will be virtually impossible for your drawer to slip back into its state of disarray. Photo courtesy of 
Jennifer and Kitty O'Neil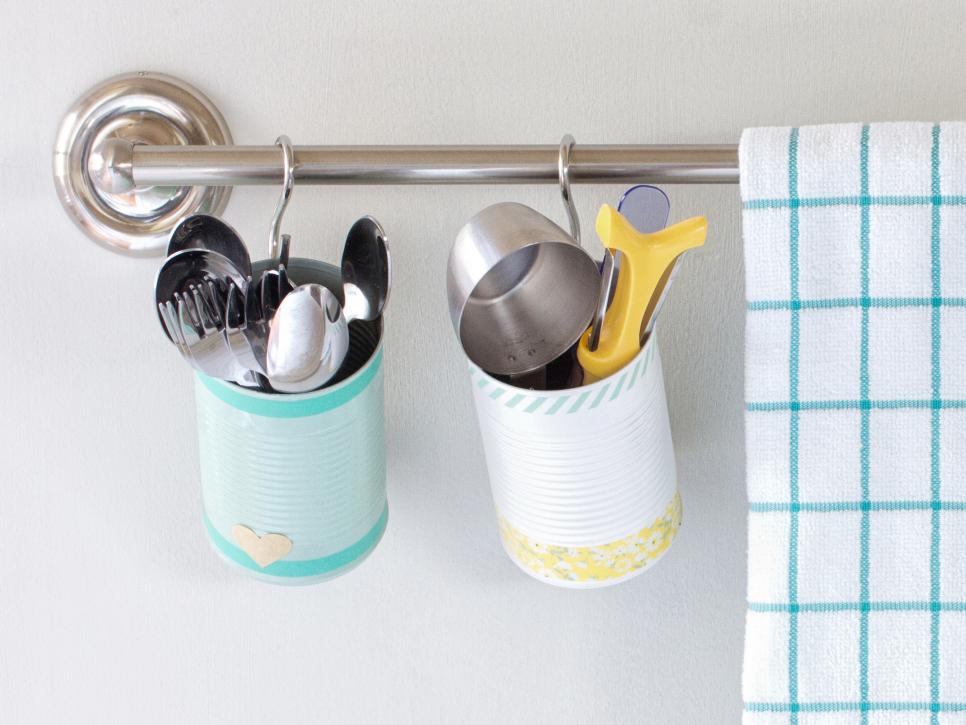 Recycled Utensil Storage Containers
If you hate tossing tin cans, this project is a great way to make use of your recyclables and create kitchen storage in the process. 
Here's how:
 Use a drill bit to create a hole just below the rim on the back of each can. Coat each can with spray paint. Then, embellish with washi tape, stickers or tags. Hang each tin can from an S-hook onto a towel bar. Fill with utensils, herbs or kitchen tools. Find more ways to upcycle tin cans 
here.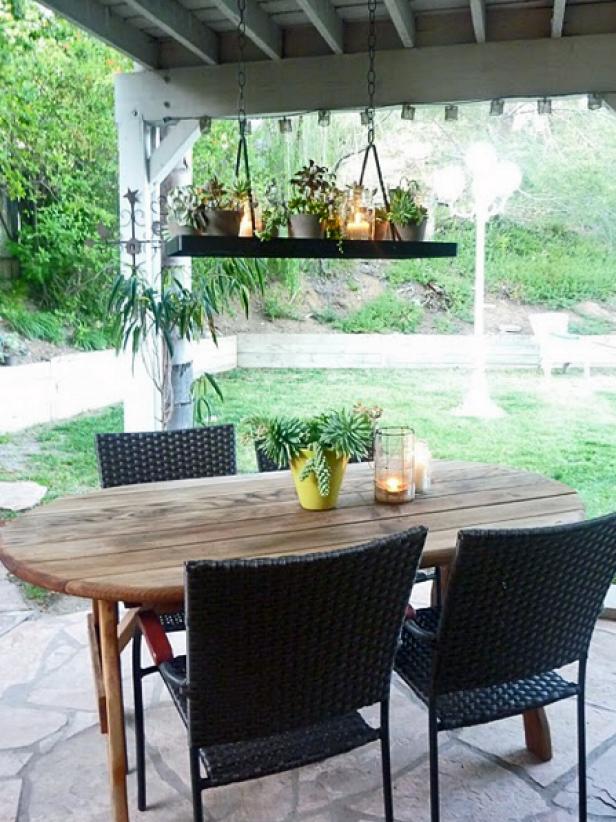 Pot Rack for Planters
When your pot rack just doesn't seem to suit the kitchen anymore, take it outdoors. Blogger Erin Lepperd revamped a hanging pot rack in her outdoor space by arranging potted plants, succulents and tea lights inside Mason jars. Suspended over her dining table, the new "chandelier" is whimsical, organic and perfect for alfresco entertaining.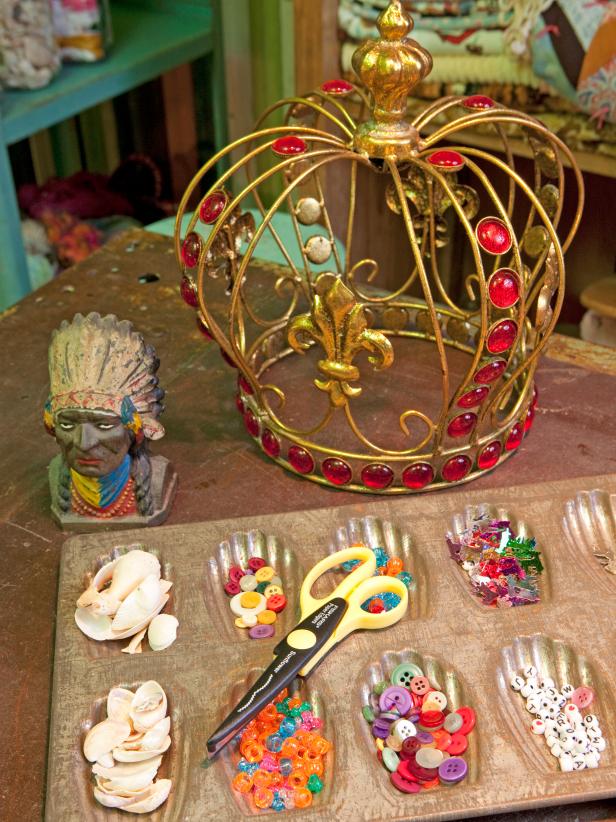 Clean Out Your Kitchen
Before you know it, you have three muffin pans, two loaf pans and more molds than you can count. Recycle them in your own home by using the handy compartments as organizers for tiny craft and scrapbooking supplies that desperately need a home. Designers Amie and Jolie Sikes, known as the Junk Gypsies, gave this French cookie tin a brand-new life outside the kitchen by using the sections to hold buttons, beads, shells and other easy-to-lose craft accessories. The tin is even attractive enough to keep out in the open.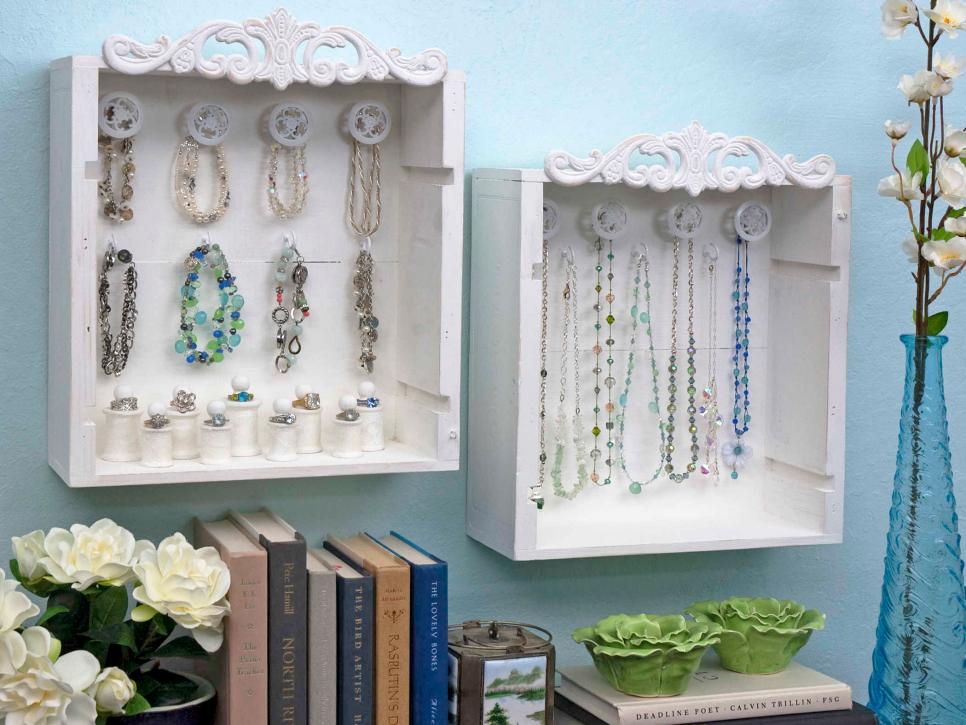 Wine Crate Jewelry Display
Don't trash those empty crates of vino: Give them a brand-new purpose by turning them into jewelry display boxes that will showcase your stunning collection and keep it organized, too. 
Get the full instructions>>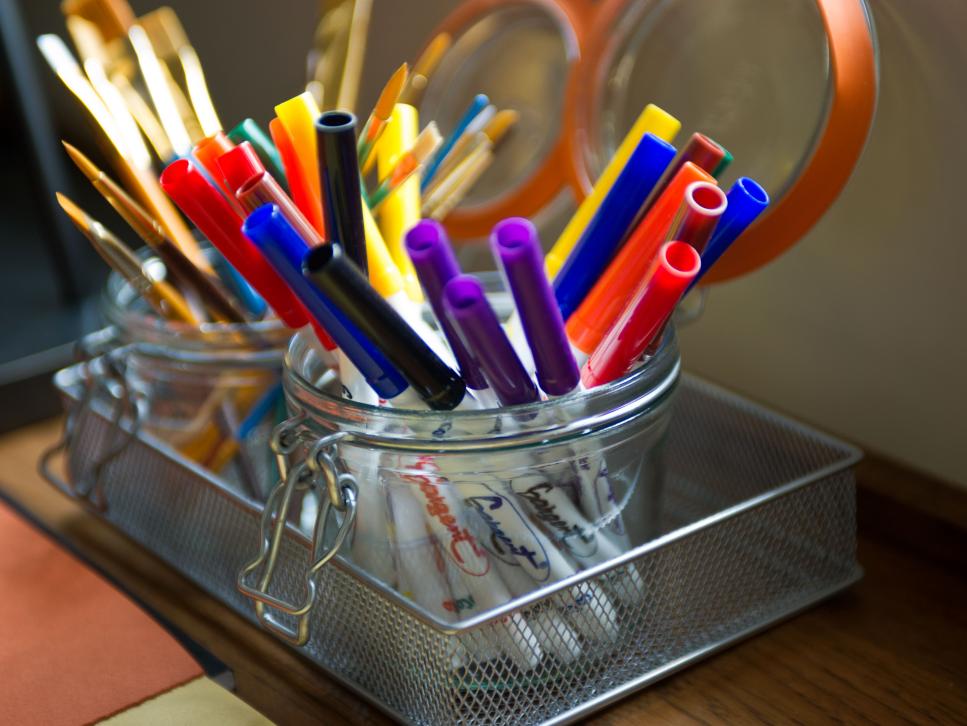 A Simple Solution
When it came to corralling art supplies, HGTV Green Home 2012 designer Linda Woodrum turned to classic French canning jars. They keep the paintbrushes and markers organized, while pulling in a welcoming farmhouse style to the open and airy craft room.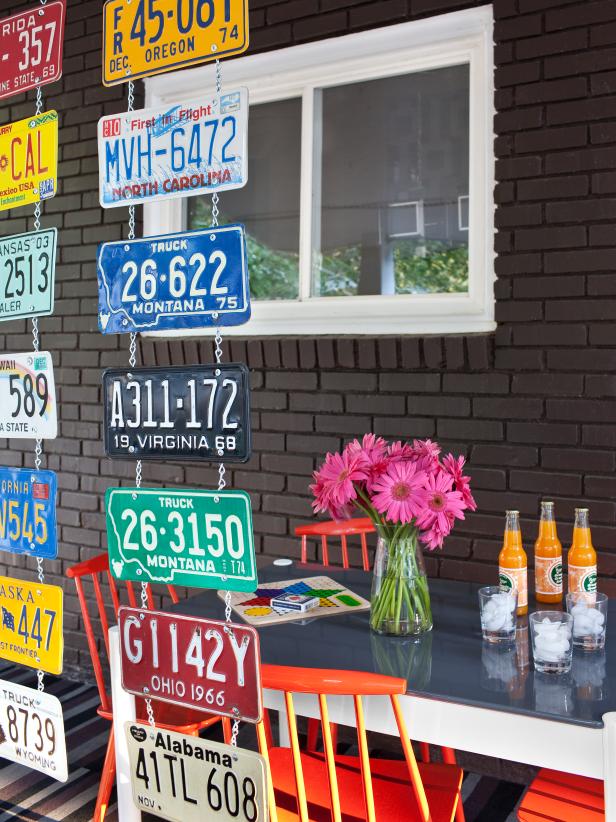 License Plate Room Divider
License plates can be used for a variety of things, some decorative and others both decorative and functional. In this outdoor living space, designer Brian Patrick Flynn used several vintage license plates, small metal chains and S hooks to create a colorful and eclectic room divider.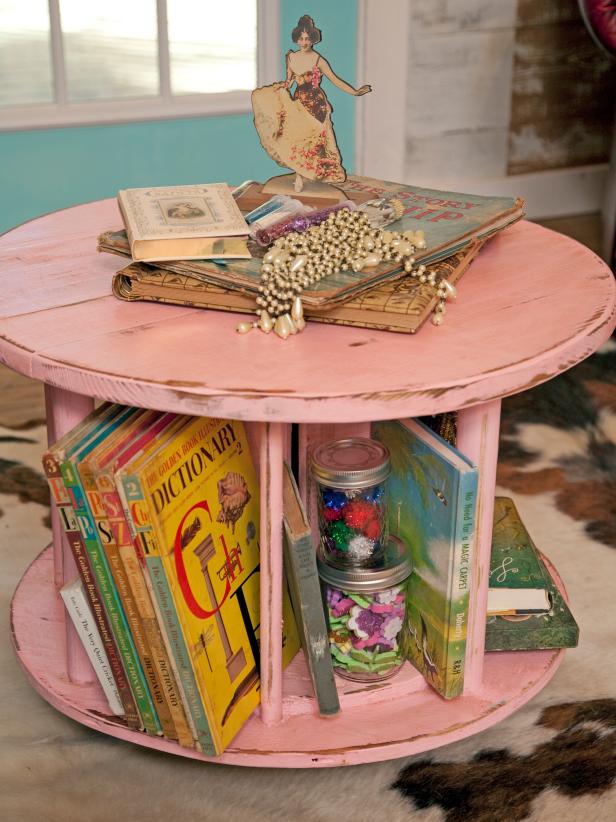 New Life for Wooden Spools
You may not necessarily have an electrical spool lying around the house, but you can easily find them, and they're oftentimes free at many home improvement stores. Wooden spools are excellent for keeping the garden hose tidy outdoors; they can be cushioned and repurposed into an ottoman, or they can be turned into a flea-style craft storage table like this.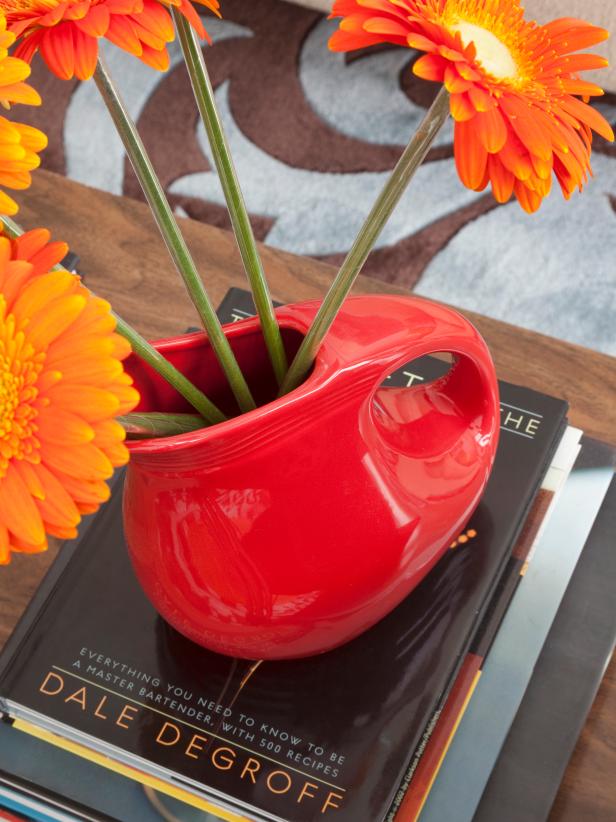 Pitcher-Turned-Vase
When you're in a small-space situation, dual-purpose items are a must. Instead of using vases around the apartment, homeowners Briana and Buzz pulled in serving pitchers to hold floral arrangements. This saves on kitchen space and keeps blooms displayed in a fresh way. Photo courtesy of Brian Patrick Flynn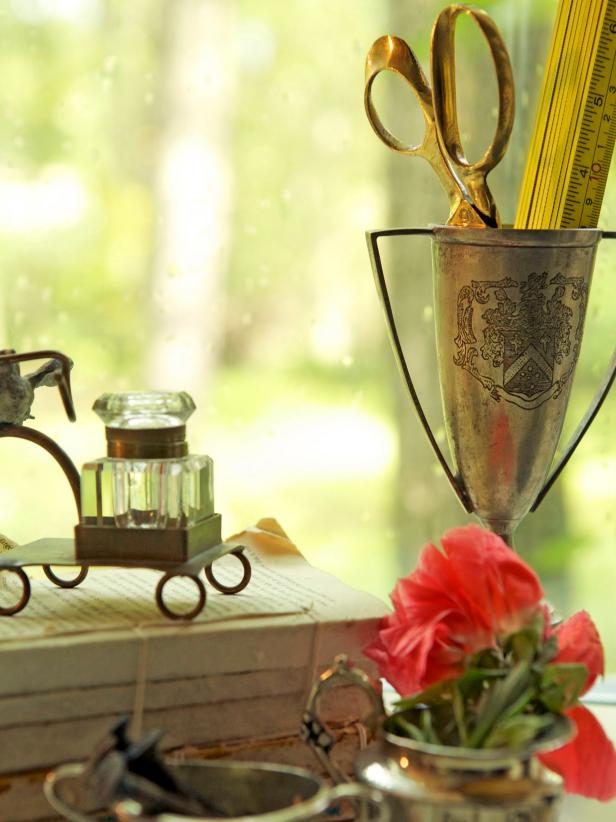 First-Place Storage
Just like canning jars, Mason jars and galvanized buckets, a vintage trophy can also serve as a pretty container for anything from home office supplies to small flower arrangements. Designer Genevieve Gorder set up a romantic vignette with vintage and antique furnishings, using the trophy as the focal point with old metal scissors and a fold-up ruler.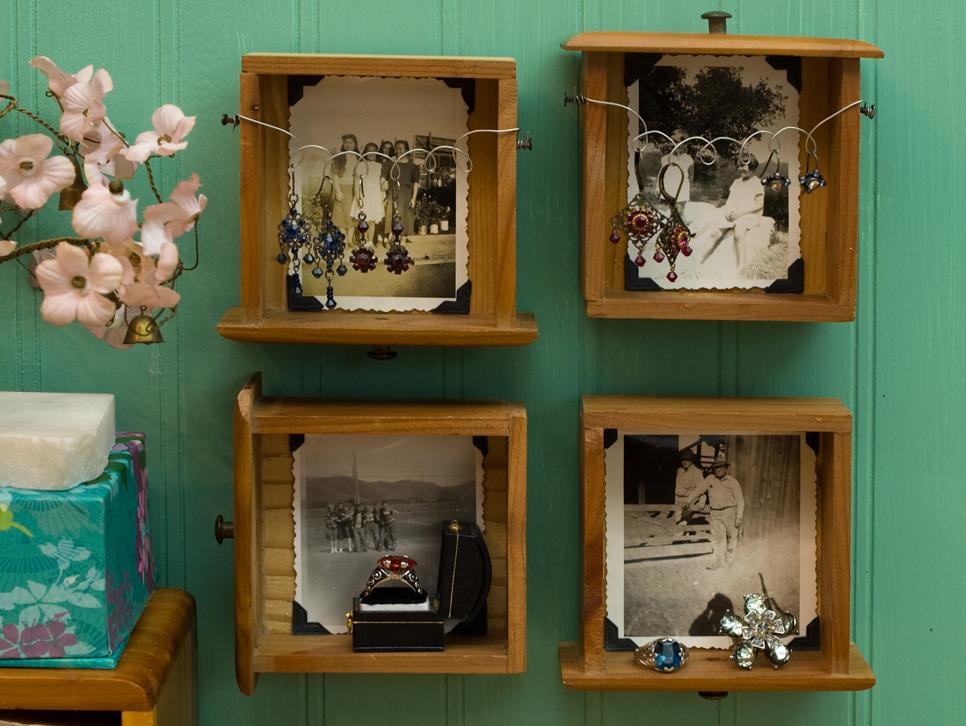 Pull Out Your Drawers
Take the drawers out of a miniature dresser and mount them on the wall to create a unique shelving solution for any room in the house. They're especially useful in the bathroom, though, where storage space is at a minimum. Designer sisters Jennifer and Kitty O'Neil suggest adding a favorite picture in each drawer for embellishment and even attaching looped pieces of wire to hang jewelry. They're thrifty and space-saving! Photo courtesy of Jennifer and Kitty O'Neil